Kao Chemicals Europe develops solutions for on-trend hair care products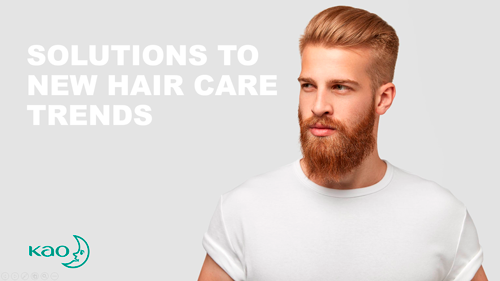 Kao Chemicals Europe reveals a range of novel solutions to meet modern hair care demands. These solutions have been developed in line with global market trends, such as customisation, an increased focus on scalp care, hair health and damage, sustainability and professional hair care.
Consumer demands have evolved concurrently with their awareness of health, wellness, professional care, customisation based on their individual needs and environmental sustainability. Kao Chemicals Europe is aware of the need to create products that are kinder on the environment, form part of a professional service experience, help answer the individual demands of consumers and allow proper care for hair and scalp health.
Environmentally friendly yet effective
Among the solutions developed by Kao Chemicals Europe to answer market needs, Akypo Foam LM 25, Kao Sofcare GP-1, and Danox HC-30 tick all the boxes when it comes to meeting the demand for greener, leaner and more eco-friendly products.
Although sustainability has become a hot topic across various industries, it's particularly important in personal care. Today, clean beauty is not just about the ingredients used in hair care products, but also about how the products are produced and packaged.
Kao Chemicals Europe has also developed Akypo Foam LM 25, an ultra-mild cleansing agent that provides a high consistent, stable and creamy foam. On the other hand, KAO Sofcare GP-1 is a fortifying and repairing conditioning agent, which maintains volume, provides shine and improves hair manageability; meanwhile Danox HC-30, a two-in-one conditioning agent developed in one production step, improves the formulation process and provides optimum properties to hair for maintaining a healthy look and feel.
Beyond answering hair care trends, these solutions provide added benefits in finished products, such as versatility, smoothness, conditioning, biodegradability and outstanding results.
These are some examples of the range of solutions and products that KAO has developed to respond to new market demands. The necessary customisation and individualisation needed to adapt to the needs of each person and every hair type; the focus on scalp care, preventing problems such as irritation, excess grease or dryness and maintaining good hair health; nourishing, moisturising, repairing and preventing hair loss in relation to every specific need. All this can be done by hair care brands and manufacturers with maximum respect for the environment, through new formulations and by responding to the supreme standard of professional care.